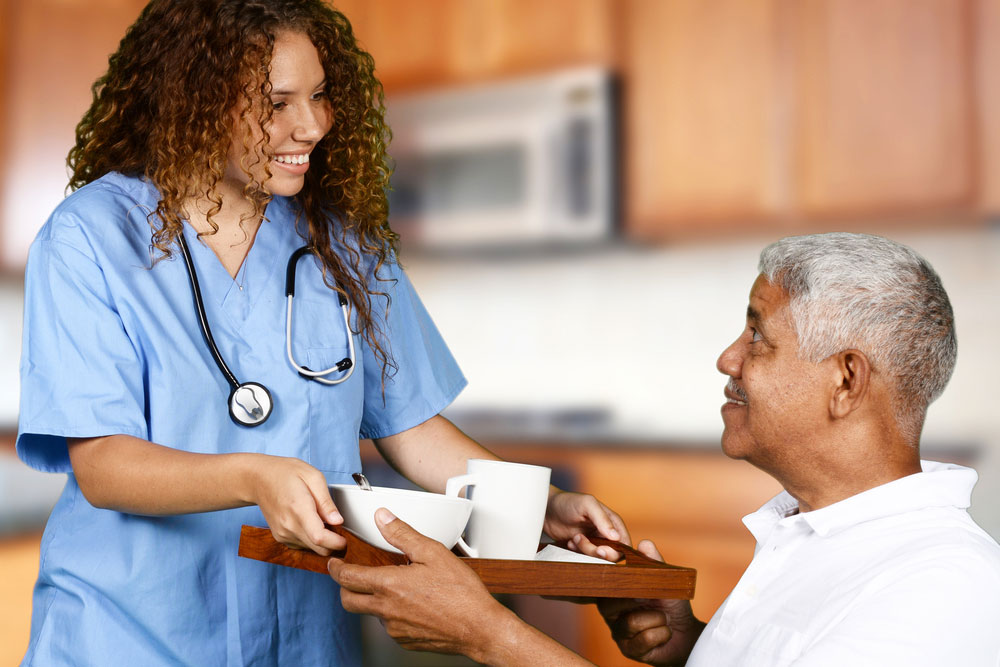 Our passionate staff will always put your needs as their first, and only priority. It is of utmost importance that all of your needs are not only met, but have been gone above and beyond for
In addition to our 24-hour care services, we may also accompany individuals to and from appointments, or any outting associated with your daily independence. Our caregivers may prepare meals, provide light housekeeping, assist with companionship, pet care and much more!
Please contact one of our office locations to find more information on how our 24-hour care service may benefit you today!
Using Long-Term Care Insurance to Pay for In Home Health Care?
Personal Care Services
From out-of-bed assistance to dressing and grooming help, your Lending Hands in-home caregiver will be there every step of the way. Our gentle professional staff can assist with toileting, mobility, eating assistance and many more personal care services.
Here, you will find a complete list of services that are offered from Lending Hands Healthcare:
Dressing
When your aging family member struggles with undressing and dressing themselves, our personal care services includes assistance with this task, making sure your loved one will feel and look their best.
Bathing, Grooming & Hygiene
Showers and bathtubs can be dangerously slippery. If your loved one finds it difficult or even unsafe to manage it alone, we can provide help with their bathing, grooming and hygiene as part of our personal care services.
Toileting & Incontinence
With absolute professionalism, respect and sensitivity, our personal caregivers have been trained to offer basic to thorough assistance with toileting use, as well as incontinence care.
Transferring & Positioning
When your aging family member struggles with undressing and dressing themselves, our personal care services includes assistance with this task, making sure your loved one will feel and look their best.
Mechanical Lifts
If your loved one requires the use of a mechanical lift for help in getting in or out of bed, pool, vehicle or other situation, our caregivers can assist them as part of our personal care services.
Mobility
To be active in your golden years is a great way to maintain the quality of life. Our caregivers help your loved one stay active by helping them in getting from place to place in safety and comfort.
Dementia Care
Lending Hands trained caregivers are there to help maintain your loved one's independence and dignity. It is our goal to find ways to alleviate the emotional frustrations that come with dementia-related disorders. We understand that these difficulties do not only affect your aging loved one, but also the entire family. We aim to help families draw closer so they all can support the family member who is suffering from dementia.
Food Preparation, Special Diets, Eating Assistance
Our caregivers can step in and help in the kitchen when needed as these daily tasks can sometimes be difficult for seniors. Cooking hot and wholesome meals to meet dietary and nutritional needs is part of our personal care service. Your loved one can always work alongside their caregiver during meal prep, enjoying some social interaction and conversation.
Therapy Assistance
If your loved one is recovery from a surgery or injury, they may have special physical, occupational or speech therapy. We are happy to assist them in their therapy and help them regain their ability as much as possible.
Respite Care
Lending Hands Respite Care Services enables your loved one to comfortably remain in their own homes, while allowing you a much needed relief or rest. Respite periods can be from just a few hours to several days long. Having a short-term break from the care-giving of your loved one can help restore your energy, relieve stress and bring some balance to your life.
Client Check-In
We provide check-in services for seniors who's needs require just an occasional visit to ensure their welfare and quality of life are being maintained. We are happy to come and check-in on your loved one at whatever time intervals you feel are appropriate, whether once or twice a day or one to two times a week, we are happy to accommodate.
Light House Cleaning
When taking care of the little things becomes difficult, our caregivers are there to assist with light house cleaning. Whether it's a spill to clean up, garbage to go out, counters to wipe down or other chores, we will happily assist your loved one with these housekeeping cares.
Laundry
Our Lending Hands Caregivers can assist in all laundry needs, whether in home or at a laundromat that is close-by. Services may include washing and drying clothes, ironing as need, and putting away clean laundry.
Pet Care
If your senior has a beloved pet that needs attention to it's care, our staff can assist. We can help ensure a pet has food, water, and a clean environment as well as help in taking the animal to any veterinarian appointments.
Meal Planning / Diet Monitoring
To help ensure a well-balanced diet, our Lending Hands Caregivers can assist with meal planning. This also includes helping your loved one in clipping coupons, seeking out the best sales, monitoring current food inventory at home and getting rid of spoiled or old food.
Grocery Shopping
Included in our meal planning service, we can also help with grocery shopping for your loved one. Our caregivers ensure that the proper quality food is obtained that your senior wants and needs for their meals.
Incidental Transport
Is your senior unable to drive or need help just getting around? We can help run errands like grocery shopping, pharmacy pick up, and post off ice drop off for your loved one. He or she is welcome to relax at home or come along for the ride as they wish.
Companionship
The goal of companionship care is to offer company and friendship. Our Lending Hands Caregivers not only assist with certain personal and housekeeping tasks, but more importantly they spend time with your loved one. They help ensure your senior is obtaining proper nutrition, enjoying a quality of life and help fill in those gaps of loneliness.
Engaging Client in Activities
Studies show that seniors who stay engaged and social enjoy a better quality of life and have a lower risk of developing depression. Our caregivers provide friendly company and help engage them in activities to help keep your loved one upbeat.
Appointment Escort
It's always nice to have a companion when you have to attend medical and physical appointments. Our caregivers provide professional and gentle escorts for your loved one as they attend their appointments.
Appointment Reminders
We all forget things as get older and it's stressful to forget an important appointment or doctor visit. As part of our Housekeeping care services, we give your loved one reminders of all the the appointments they have on their schedule and help ensure they are reminded in time to arrive promptly.
Live-In & 24 Hour Care Available